I have always been aware of coachella because they had insane artists headling like this year it was paul mccartney and morrisey. Macca's set sounded incredible like if I'd picked out what songs he would play that'd be it. I thought that it might also give rise to a few awesome new bands, turns out that's not what the deal is with that place there are a few which i've been led to give further investigation to-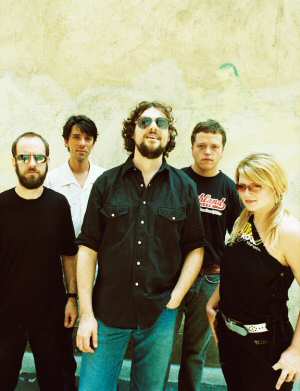 Drive by truckers

- Feb 14th
I was apprehensive checking these Georgians out due to the risk of them being a stupid southern country band with twee lyrics and ukeleles but as ever I hoped my instinct to ignore stereotypes would prove me right, here it did. They do have a distinctive country sound but without it being jarring, these thanks largely to the guitars being distinctly electric, the lyrics do remain true to some of the conventions of country talking about travelling and then repeating lyrics at the end like "123.123.123.123444444444." you know the deal, but yeah I don't reccomend downloading the rest of their stuff as it IS a bit country, but this track's a nice addition to any ipod.
Electric Touch

- Love in our hearts
One of the stand out up and comers at coachella, they'd already rocked SXSW the previous year and to those in the know their storming coachella set was no surprise. Three Texans and one Englishman as the lead, his vocals maybe sort of a bit of a mix of wolfmother and hot hot heat but with great sing along parts reminiscent of greenday or Blink 182 at their best. The guitars and backing are memorable. These guys are tipped to be big but they are already getting enough attention to call themselves that, they're instantly likeable which is always a commodity, definately going to be seeing a lot more from them.
I'm afraid that's all I got from Coachella that absolutely everyone doesn't already know. Back to random bands that people have been reccomending me, I check them ALL out so I secretly hate some of my friends who reccomend garbage :)
The first band I was reccomended was
Trailer Trash Tracys
and they almost broke my speakers within the first 5 seconds, it's not even low fi, it sounds like it's been recorded by a crude implement fashioned out of tin foil and banging bin lids together.



Magic Magic

- Over your heart
After that atrococity it was nice to have a band that described themselves as an "easy listening lounge act" upon listening it's a hugely pleasant mix of reverb laden psychadelia with fragile vocals and a pulsing beat. This is what the unicorns would sound like if they weren't mental. Damn magic is one of those words that when you write it so many times it looks like it's from another planet.
I keep not mentioning
RaRaRiot
because they seem to be getting so huge with relentless momentum that I feel i've missed the boat on mentioning them before they get too big, I keep listening to them and thinking yeah they're gonna be huge and I should do a post on them, today's not the time, it's probably gonna end up being a band you should know.
Next was
we were promised jet packs
they sound like a good version of glasvegas like I guess if them and biffy clyro had a musicbaby. The name's obviously awesome, probably from the simpsons or something, I wouldn't like to say it out loud but looks good on paper.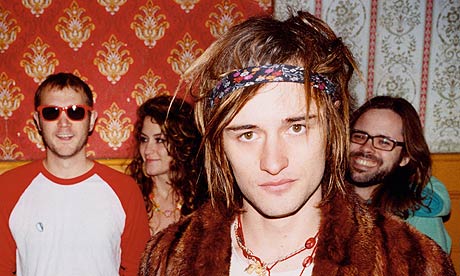 Will and the people
I was reccomended these by a girl at my bar, she said how they're just the right level of noteriaty right now but are about to support girls aloud so are gonna be huge... I was like... girls aloud? Sooooo how gay are these guys exactly? Main problem is, they're good, but yeah- will appeal to teenyboppers and their moms. Ska influenced pop, reminds me of Mattafix. Bottom line is because they're on a huge label with pop acts all their mp3s get taken down and i'm not having that happen twice in a week,and I don't really care whether people hear them or not, just check their myspace if you want, I expect in a few months they'll be as annoying as bands like the hoosiers, the feeling and the script.